Who we are
We are Daniela and Lavinia, two friends with a passion for our province, Umbria.
We organize excursions with lots of activities to help you discover our wonderful Umbria, her inhabitants, traditions, folklore, food, and countryside.
We offer personalized service with particular attention to details.
We collaborate with English-speaking experts for every activity to guarantee you the very best service and  to make your holidays a unique experience.
Testimonials
"I have been fortunate to work with Daniela a number of times now and every time she manages to exceed all expectations. 

Daniela has organised a number of meals for us. One was a large outside garden party for 50 people, where she organised a barbecued not only with meat but also fish and prawns.  In total we had six or seven courses of delicious,  freshly prepared food. Another meal was for 15 people in our home. We chose to have waitress service at the table, which could have been formal but instead was a relaxed professional service. 

She very kindly set up a truffle hunt for two of our friends in the autumn of 2016 and they said it was a fabulous occasion and they even managed to find a white truffle! 

I have no reservations in recommending her services whatsoever."

Jill Holt-Martin
'Many of 'the best' cooks in Italy give you what they decide – Daniela, though, is entirely flexible.  
She cooks well from simple meals for kids to celebration dinners.  
As important, she is a delightful person and speaks good English.
She lives near La Dogana and can organize a range of activities to make sure your Umbrian holiday is memorable.'
Mark and Jocelyn Tress
"Our entire time in Italy was made so much better and easier thanks to Daniela and Savario.
We were introduced to this enterprising couple through Jilly and Stuart who owned the magnificent property we were looking after high in the Umbrian mountains near Pietralunga.
Not only did they extend their friendship so warmly, they also were pivotal in leading us to interesting and engaging stories.
The invitation extended to visiting the family farm for the last part of the olive picking season…hunting for truffles and being invited to their lovely home for classic pasta cooking lessons.
Savario uses his skills as a chef to support Daniela and prepare gorgeous gourmet Italian meals
Not only does Daniela teach cooking from her grandmother's recipe book, she also conducts tours of the area.  She took us to places we could not have hoped to find on our own.
Together Daniela and Savario are a dynamic team and quickly became new friends.
We cannot recommend them highly enough."
With love and gratitude….Neil McLean & Gai Reid
Village to Villa.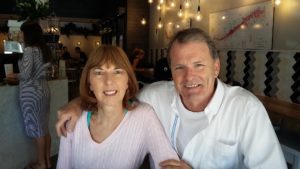 Daniela looked after our party of 12 every evening during our week long stay at Belvedere di Prata.
She is delightful company and created mouthwatering dishes every evening using fresh local produce.
We plan to return next year – but only if you will cook for us again Daniela!!!
Janette Cooke
Thanks Daniela for looking after us so beautifully. It was great to see you again and all the food was excellent. Cooking from the heart! Hope to see you next year.
Dominic Allon
We spent a week in a lovely house on the Umbrian countryside and an already tremendous experience was made even better by Daniela cooking for us for the entire week. Not only was the food great, but Daniela also showed that she was willing to listen to suggestions and to change menus on short notice. Daniela was also very helpful in suggesting and organizing other activities for us, which we greatly appreciated. Thank you Daniela!
Yasemin & Johan
We had the most wonderful afternoon with Daniela and her mother. We were three families, including about 10 teenagers, all wanting to learn how make ravioli and different sauces. Daniela was so calm and helpful. She made the afternoon fun and absolutely delicious. We all now feel like experienced pasta makers! I can highly recommend Daniela, in fact, I would say it is a 'must' to experience Italian cooking. Nothing was too much trouble, she was an absolute delight. Thank you Daniela, until next time…..
Victoria Fuller
We had Daniela cook and deliver several dishes (including the best Lasagna I have ever eaten ) we had amazing food for the whole week.. Daniela loaded with the villas housekeeper & everything was there for us in the fridge .. she speaks very good English. I wish I had organised s cooking class with her so I could learn how to cook her pasta dishes which were so light and tasty! Thank you Daniela
Caroline Standish