How to Make Fresh Homemade Pasta….. Even if it's your first #1 time….. (AND you don't know where to start)!
How to Make Fresh

Homemade Pasta
….Even if it's your first #1 time…..
….(AND you don't know where to start)!
Are you ready to discover all secrets of Pasta? Let's jump in!!! 
Homemade pasta is one of Italy's most ancient traditions, and  each Italian region has its own typical kind of pasta.
Making pasta at home was born from the need to produce food that was both substantial and inexpensive.
In the past, grain was cultivated throughout Italy and virtually everyone could afford to buy flour and eggs with which to make pasta.
My grandmother's history
My grandmother, who was part of family of 20 and lived in a large farmhouse in the Umbrian countryside, told me she made fresh pasta every day.
On their farm they cultivated grain and raised animals, including chickens, so there was an abundance of flour and eggs.
Sometimes, however, she made pasta without eggs as they had been traded for other essential foodstuff, such as salt and sugar.
The tradition of homemade pasta in Italy has always been handed down from mother to daughter.
My grandmother taught my mother and my mother taught me, and…..
Here is my Step-by-Step guide to make  Top Homemade Pasta!!
The Recipe
The recipe is simple: for every egg you use 60 grams of white flour and 30 grams of semolina flour.
I include semolina flour as it avoids the pasta overcooking, remaining "al dente."
With the flour I make what is called in Italian "una fontana di farina" – a fountain or more exactly a well of flour – into which I put the eggs, mixing everything together until I have a soft and elastic pasta ball.
Next I put the ball with a little olive oil in a bowl to rest for approximately 30 minutes.
Let's Start! We're going to make pasta
To prepare various kinds of pasta including tagliatelle, ravioli, lasagne and so on, first you have to roll out the pasta dough.
My grandmother always used a rolling pin someone is still using it today, but it is easier and quicker to use a pasta maker machine.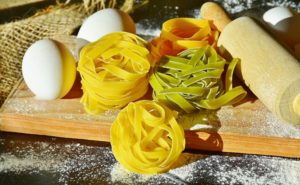 I am quite good at using the rolling pin but generally resort to the pasta machine for a quicker result.
Once the pasta dough has been rolled out, you can decide what shape or form you wish to cut.
Learn to make pasta is very easy and pleasant… Try It!
Waiting to travel again, I would like to let you discover all my "world" and to share my great passion for Italian cuisine.
Click here and discover my Live Online Cooking Class,  I will guide you STEP BY STEP while you are cooking, you have the opportunity to talk with me, ask questions and have real time support, you will feel like you are cooking with me by your side, BUT in the comfort of your home kitchen
So Put On Your Apron and Let's Get Cooking!