FREE GUIDE
7 Hidden "Medieval" Villages in Umbria
(No tourist guide will suggest you...)
Discover the "secrets and beauties" of these Umbrian wonders
yet unknown to the mass tourism...
>>Download the FREE ebook & discover<<
7 "medieval" villages you'll hardly find in other tourist guides (HINT: this is the Umbria you can't absolutely miss....)
7+3 "Hidden" local feasts and events, (unknown to 99% of tourists who visit Umbria) many with a food theme..... to discover local culture
Parades and folklore shows in medieval costumes and "medieval games".... going back in time to ancient periods described in history books.....(meet brave knights and charming ladies)
Good "food" and good "wine": (do you know "fried zucchini flowers"? YUMMY!!!) you'll taste the typical local dishes and sample the best Umbrian wines
The most amazing Umbrian landscape each village offers you a breathtaking view of the green Umbrian hills.... (Monte Santa Maria Tiberina's panorama is the best for me)
7 Hidden Medieval Villages in Umbria
Enter your name and email address to receive IMMEDIATELY your FREE e-book
We value your privacy and would never spam you
The number 1 village is by far the best for me
What people say about this ebook
Sheila Tabakoff

I DISCOVERED 2 TOWN UNKNOWN TO ME


Simply fantastic. Quick to read, stunning pictures and lots of useful information.
Typical food, local celebrations, traditions and obviously art, history and culture. Daniela succeeded in summing up all that in this interesting e-book.
Congratulations!
Even if I have been living in Umbria for some years, I've found out two medieval villages unknown to me, I'll visit them certainly following your precious guide.
Patrizia Polcri

IT IS NOT AT STANDARD GUIDE


A tourist guide shouldn't be only a list of the same old destinations.
Definitely Daniela's e-book is something different: the result of the remarkable passion for her job.
This guide lets you imagine first and desire then to see personally the hidden wonders depicted.
The perfect mix of ancient traditions and old stories, good food suggestions and uncommon scenaries.
Take it into consideration if you're planning an unforgettable tour in Umbria.
Not the same old holiday, absolutely!
Congratulations, Daniela!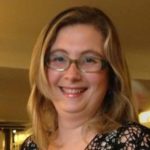 I'm Daniela Bucchi and I have been working in the tourist trade for more than 15 years.
During the last 5 years I have been specializing in tailored holidays for my guests, especially for all the tourists that want to enjoy the local lifestyle  and live unique experiences.
The passion for travelling and love for my region, Umbria, made me search and offer unique experiences, far from the same old tourist destinations.
Choosing only among the standard holidays of tour operators without customizing our journeys is really frustrating therefore I got the idea of creating  a holiday unique of its kind so that you have only to book the flight and come to my holiday home.
My offers are the result of several attempts, experiences and repeated tests on different kinds of holidays, until I found out the perfect offer to spend a unique holiday at the best price.
Get the free E-book
.... Discover 7 HIDDEN MEDIEVAL VILLAGES IN UMBRIA
yet unknown to the mass tourism
No tourist guide will suggest you
7 Hidden Medieval Villages in Umbria
Enter your name and email address to receive IMMEDIATELY your FREE e-book
We value your privacy and would never spam you