The best season to visit Umbria
The best season to visit Umbria
Is really Summer the season to visit Umbria?
The Autumn season is coming as well as bright colors and delicious fruits.
Our green hills begin change their color in yellow, red and orange, a blaze of joyful colours, they heat our soul, as a fresh breeze caresses our face.
Walking in the wood, we can pick up
mushrooms,

strawberry-tree,

quince apples,

nuts and hazelnut,
to the greengrocer we find 
greedy figs,

grapes 

red pomegranates.
We can make a lot of delicious things with all this fruits such us figs jam, it goes well with pecorino cheese, or a pomegranate juice, rich in vitamin C, and then the chestnut,  the Queen of the autumn fruit.
You can taste the chestnuts roasted or use it to make cakes and spreadable cream.
Porcini mushrooms picked up in autumn are tastier, they are perfect to flavour a good homemade pasta dish or grilled with a beefsteak or fried  as appetizer served  with a glass of wine .
In October there are a lot of events dedicated to the wood products such us:
La bisaccia del tartufaio, autumn festival at Citerna the first week end of October

Autumn Festival at

Monte Santa Maria Tiberina

 the second week end of October

Chestnut festival at Morra the third week end of October

Wood festival at Montone  the last week end of October
Let's go to discover some Umbrian wonders!!
Download Now the new FREE e-book "7 Hidden Medieval Villages in Umbria"
Click the link right below and follow the directions to have it FREE.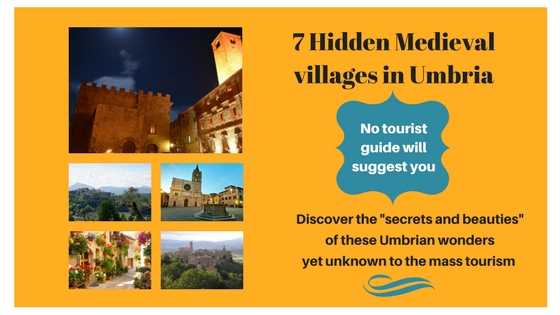 Did you find this article interesting?
If you haven't done it yet, help me to share it with your friends!
It's easy, just a click!!